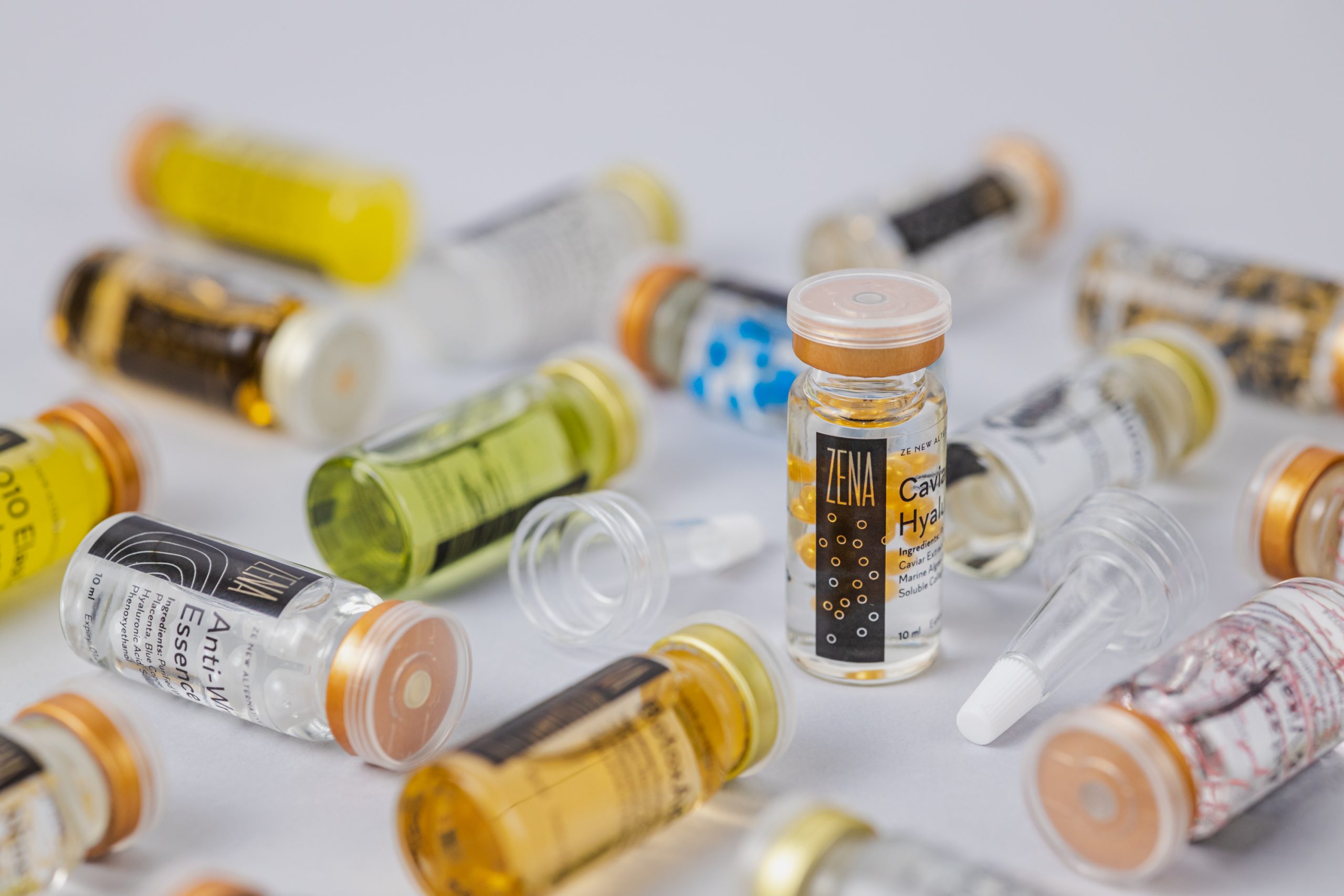 Zena Cosmetics Serum Ampoules have all been formulated with purpose, tested and trialled. There are 12 different serums at our disposal to target a variety of different concerns.
The advantage of ampule complexes is due to the high concentration, in comparison with creams, it is 20-30 times higher.
The Zena Serum Ampoules are proudly non-hormonal natural raw materials; Does not contain mineral oils, without artificial colours and synthetic aromas.
Serum complexes can be used as a targeted serum with Mesotherapy, skin needling and in conjunction with a BB Glow Treatment.
24k Gold Hyaluronic acid
It imparts an opulent, radiant glow and locks in moisture for ultra-hydrated skin. This concentrated treatment helps to reduce the look of fine lines and wrinkles, leaving skin looking silky smooth, firmer, radiant, revitalised and youthful.
Anti-Wrinkle Essence
Highly concentrated low molecular weight hyaluronic acid with natural caviar extract, placenta, peptides and seaweed extract. Light emulsion balls contain innovative solution with high concentration of active nutrients encapsulated inside.
Provides deep skin hydration, saturation with micro-elements and nutrients whilst the ingredients help in strengthening and toning skin, assists in preventing the appearance of wrinkles.
Astaxanthin and vitamins
6,000 times more powerful antioxidant than vitamin C and can prevent the visible signs of aging. This super antioxidant serum will help repair and protect your skin from premature aging by naturally boosting collagen and elastin production by stimulating cell renewal, diminishing the appearance of wrinkles, fine lines and dark spots, while increasing healthy circulation for a youthful, luminous complexion.
BotoxAlternative
Alternative to botox without injections. Based on peptides of neuromodulators that weaken muscle contraction.
Caviar and copper peptide wrinkles, fine lines & hairloss rejuvenation
Restores the natural elasticity of the skin, makes the skin smooth, gives radiant, youthful and healthy look. Copper peptides enhance collagen synthesis in fibroblasts.
Can also be used as a hairloss rejuvenation treatment to promote hair growth and prevent further hairloss.
Caviar Gold Hyaluronic Acid
Contains matrix peptides that penetrate into the deep layers of the skin, which triggers and stimulates cell renewal and has a powerful anti-aging effect. To facilitate penetration through the lipid barrier of the upper layer of the skin, peptides need to be combined with a fatty acid, therefore the most effective form is encapsulated balls which are mixed directly when applied to the skin. In this form, they are most productively included in the natural dermis processes.
Collagen Hyaluronic solution
Contains matrix peptides that penetrates into the deep layers of the skin which triggers and stimulates cell renewal and has a powerful anti-aging effect. Assists in smoothing fine lines and reduce wrinkles.
Eye Care Anti Age Wrinkle & Dark Circle Complex
Liquid gold for the eye area to target a variety of concerns, Anti-aging, firming-lifting effect, hydrating, reduction of dark circles and puffiness.
Low Hyaluronic acid
Hyaluronic acid absorbs approximately 1,000 times its own weight inside the extracellular matrix of the skin. It plumps skin and enhances the volume to create that same firm yet soft and supple skin.
Nine Peptide Moisturising
Contains 9 active peptides designed to achieve maximum effectiveness providing visible results. Helps to moisturise, repair skin tissue, restore microcirculation in different layers of the skin and normalises the condition of vascular walls.
Q10 Elastin Hyaluronic
Full of antioxidant properties that protects the skin from environmental stressors, energises the skin, and helps your skin retain moisture. In addition to its ability to help even out skin tone, it helps reduce dullness and tightens up the skin.
Scars & stretch marks
Regenerating effect, prevents inflammation, promotes collagen and elastin production. Also helps in restoring existing scar formations and stretch marks. High content of Rutin has anti-couperose (rosacea) effect. Targets Hyperpigmentation, age spots, Rosacea, Inflammation, irritation of the skin, Blemishes, brightens skin tone and Antiseptic effect