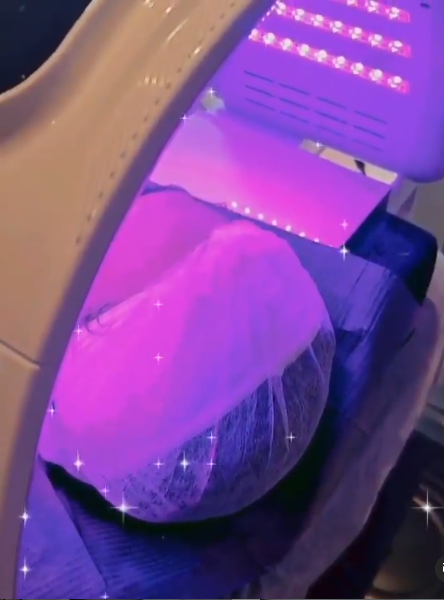 LED works by emitting infrared lights (causing heat) in different wavelengths/spectrums, which have different skincare benefits.
Using LED light therapy is a wonderful, non-invasive, healing way to treat the skin that works with your skins own natural systems to heal skin issues, detoxify, balance and promote rejuvenation.
A 20 minute LED treatment is an optional add on after most facial treatments.
Our device has 7 LED Light colours at our disposal to select from with the option to cycle through all the colours which will be determined based on a clients skin concerns during a consultation and skin analysis with our qualified Beauty Therapist.

Red light: Beneficial effects on cells by immediately creating more ATP (Cellular Energy) and increasing DNA and RNA activity. It is proving to be a very effective treatment for aging, sun damaged skin, rosacea, reduce fine lines and shrink pores.

Blue light: Proven to have powerful antibacterial properties that have the ability to eliminate acne causing bacteria from the skin (Porphyrins). It cleanses and purifies the skin to reduce acne breakouts. We use with red light therapy to speed up healing and reduce inflammation.

Green light: Evens skin complexion, combat hyper-pigmentation, sunspots, dark circles and redness.

Yellow light: Improves the exchange of oxygen in the cells, promotes health and vitality of skin, reduce redness, combat rosacea, psoriasis sun burn and eczema.

Purple light: Has the ability to rejuvenate skin cells, increase cell regeneration, prolong cell life, alleviate inflammation and cleanse the skin. Great for combination skin.

Cyan light: Cyan light therapy acts as an anti-inflammatory agent for the skin, treating swollen and inflamed skin. It has been proven to have incredibly soothing properties, calming the skin to promote healing, treating inflamed skin and reduce the size of swollen capillaries. It is also an effective pain blocker.

White light: Relaxing, activate your skin's natural renewal system to reverse the effects of aging at the same time restoring a younger and healthier skin.